About Us
Johnson Bros. beginning occurred when Edwin Johnson, Sr. decided to go into business himself. In 1947, he started constructing the company's first roll forming machine (now in storage) in his basement. He had offered his five brothers and equal share of the business if they matched his life savings, $700 investment. One brother, Harold Johnson, did; hence the name Johnson Bros.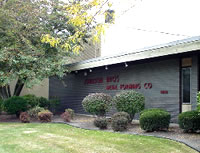 5500 Outside
When the first machine was finished and tested it had to be disassembled, carried from his basement and reassembled in Edwin's garage. After a few months the neighbors complained about the noise as production of small orders began and Edwin was forced to find new quarters. He found an uninsulated, dirt-floor garage that had formerly been a stable at Cicero Ave. and Chicago Blvd. in Chicago. The brothers, Edwin Sr. and Harold, insulated the garage/plant, built a small office and heated the building with a small stove in the cold months.
In 1950, Edwin Sr.'s son, Edwin Jr., who had been working part-time for the brothers since 1947 while going to college, and another brother of Edwin Sr. and Harold, not active in the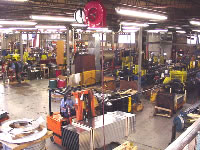 5500 Inside

business, poured a concrete floor in the garage. This brought stability, to say the least, to the roll forming Chicago operation.

In 1951, they rented a storefront on the garage property, built two more roll form machines and grew the business. Besides conducting all sales, Edwin Sr. designed all the dies (rolls and cutoff) and the equipment (roll formers and flying cutoffs) in his attic from 10 pm. (at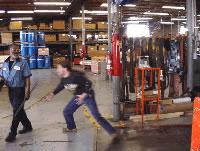 Low-stress day for our shipping foreman

the end of his factory workday) until 2 or 3 am. He built his dies and equipment during the day with some help from Harold who spent most of his time in production and who, by the way, was the best roll form machine operator/setup man the business ever had.

Two more brothers, Rudolf and Arnold, and a neighbor were hired and the growing business was moved to Bellwood, IL, in 1954 to a building formerly occupied by an old millwright. It was located behind Borg-Warner,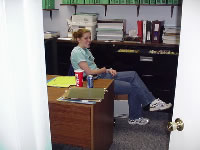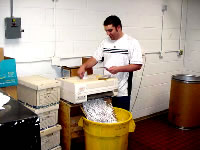 4th generation works - Ed Johnson Sr.'s great grandchildren

Spring Division. The toolroom and the roll form departments were laid out by Edwin Jr., who used the adventure as part of his masters degree thesis. When Edwin Jr. returned from military service he worked in the production and tooling departments, and in administration and accounting. In 1958, the business was incorporated with Edwin Sr. as president, Harold as vice president and Edwin Jr. as secretary/treasurer. The most exciting incident in the company's history occurred in this Bellwood plant when the FBI used it for a stakeout to catch some thieves in Borg-Warner.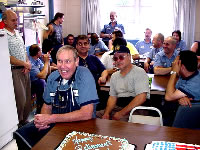 Rich Sandeen's retirement
In 1963, Edwin Jr. designed (in the rough) a new plant (modular for expansion), which the architect of course finished. The building was completed and the company moved into its new plant in Berkeley, IL, in 1964. A 10,000 sq. ft. addition was completed in 1969, additional offices were built in 1978 and the business purchased its neighbor to the west's plant in 1998. Harold had retired in 1965 and Edwin Jr. became vice president/treasurer. Edwin Sr. stayed active until 1984 when illness at the age of 81 forced his retirement. After Edwin Sr.'s death in 1988, Edwin Jr. became president/treasurer/chairman of the roll forming, Chicago based company.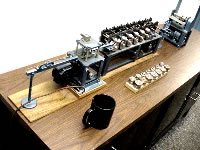 World's smallest roll forming and slitter line
In 1978, Brad Johnson, Edwin Jr.'s son, had joined the business working in the plant and learning the mechanical aspects very well. Their purchasing agent's open heart surgery moved Brad into purchasing. From there he moved into sales and in 1985, Brad became vice president/sales manager. Today Brad is President & CEO. For seven years, Johnson Bros. was a three-generation company.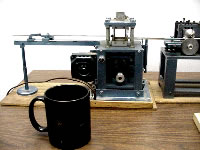 World's smallest flying cutoff press & runout table
The nature of Johnson Bros. roll forming has seen an evolution from a lockseam and openseam tubing emphasis, which accelerated their growth, to a diversity of shapes for many industrial uses and now to sophisticated computer controlled in-line fabrication. Their forming of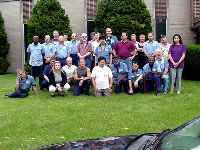 Personnel

all types of metals prefinished or plain, in thickness from .004" to .188", into many shapes have virtually gone to every state in the continental U.S., Canada, Mexico and parts of Europe. Sales have grown to seven million with 36 fulltime and six part-time employees. Outsourcing has made it difficult for American manufacturers and Johnson Bros. in the last few years but the future now looks very promising. As we move into an environmentally friendly society, Johnson Brothers continues to create green energy products including "green" tubing.

Edwin Johnson, Sr.

The death of Edwin Johnson, Sr. on September 26, 1988, marked the passing away of an American Pioneer in the traditional sense. Johnson was President and Chairman of the Board at Johnson Bros. Metal Forming Co. Born in Canada in 1903, growing up on the farm,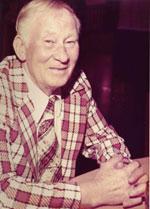 Edwin Johnson, Sr.

living in a sod hut in South Dakota, crossing the plains in a covered wagon, cowboying in Montana, lumberjacking in Canada and Minnesota, lineman in Nebraska describes his colorful beginning. He also worked in the iron mines in Michigan, for Henry ford making wooden bodies for Model Ts and for Majestic Radio as a cabinetmaker.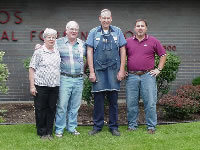 Marian & Ed Johnson, Jr., Rich Sandeen, Brad Johnson (President & CEO)
The Great Depression forced him back to his dad's farm on northern Minnesota where he cut his own trees and built a log cabin. One cow, hunting, fishing, gardening and odd jobs provided for his young family.
In 1934, he returned to Chicago to work for Kroh-Wagner in custom roll forming and in the mid-1940s for Maplewood Machinery in roll form machine building. In 1947, he began building his first roll forming machine in his basement and in 1948 he founded Johnson Bros. Co. (later to be Johnson Bros. Metal Forming Co.) As President he was actively engaged as chief engineer/tool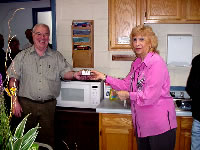 Ed Johnson, Jr. and MaryAnn's retirement

maker until his eyes (macular degeneration) and health (congestive heart failure) forced him to semi-retire in 1984, thereafter serving as a consultant. His last two years were spent fighting bone cancer, a fight he lost on September 26, 1988.

Johnson Bros. Metal Forming Co.'s service and expertise continues. The addition of expert technical personnel during Mr. Johnson's final years, together with the ongoing management team allows Johnson Bros. to continue with the same competent and conscientious service they have sought to provide since their founding, but they sorely miss their pioneer, Edwin Johnson, Sr.

For more information regarding the Johnson Brothers roll forming Chicago based company, Contact us!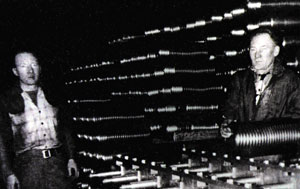 Original founding Johnson Bros. preparing headlight lens ring circa 1948



Johnson Bros. First Building on Cicero Avenue.




Edwin Johnson, Sr., and Brother Arnie preparing Roll Forming machine for sale at Cicero Avenue.




Harold Johnson performing Tool & Die work at Cicero Avenue.

| | |
| --- | --- |
| Ed Johnson, Sr., and Harold Johnson preparing machine for sale at Cicero Avenue. | 2nd Building in Bellwood, IL, owned by Johnson Bros. Sign painted by Ed Johnson, Jr. Arnie Johnson and his Olds. |




Arnie Johnson on the fork lift at Cicero Avenue.




Flying Cutoff Press Model. Designed, built, and sold by Johnson Bros. 1957 Cicero Avenue.




Early Model Roll Former built at Cicero Avenue location.




Rudy Johnson and Ed, Sr., at Cicero Avenue with Ring Profiles Rolled & Bent.




Rudy Johnson and Ed, Sr., at Cicero Avenue with Ring Profiles Rolled & Bent.




Ingwald Speed Johnson welding at Bellwood facility.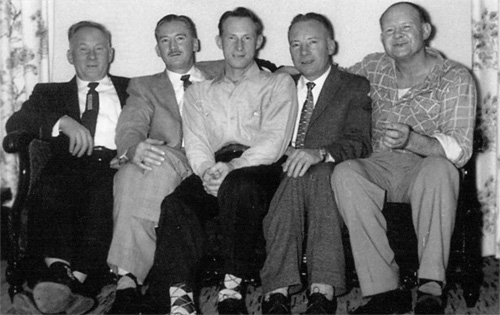 "The five original brothers employed at Johnson Bros. from left to right: Edwin Johnson, Sr., Rudy Johnson, Arnie Johnson, Harold Johnson, Oswald (Speed) Johnson"


We support many charities and nonprofits.