Work Samples
* All Products are produced to order. No Stock Products.
Check out this SME youtube video of Roll Forming
Johnson Bros. has produced this very complex part (seen above) by doing all inline fabricating in the "Cutoff Operation". This inline fabricating includes the countersinking of holes in the cutoff. Thus, "Roll Forming" and "Stamping" operations are combined in the forming of this part. This part is made for a customized racking system for a customer who supplies fixtures for the retail store industry.
It is produced in .120" thick steel and becomes plated after forming. Tolerances from slot to slot are =/-.005" so that slots are in alignment with each other as they are mounted as a racking system. Having accomplished all press fabricating completely in the cutoff die allows closer tolerances to be held than would be given using prepunch tooling due to material stretch in the Roll Forming operations roll dies. The latest in die accelerator technology used in the Cutoff operation is a must to produce this complex "Roll Formed" part.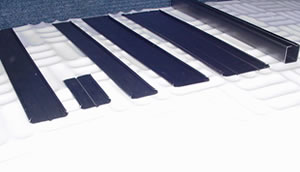 Applicable Categories
Profiles, Mouldings, Special Shapes
Lock Seam
Holders, Mountings, Edgings, Trim, Retainers
Framing
Slats, Strips, Gaskets, Battens
Panels, Fins, Plates
Caps, Covers, Cladding, Flashings
Railings & Brackets
Accompaniments
Price Card Mouldings
Misc. Channels
Applicable Categories
Price Card Mouldings
Profiles, Mouldings, Special Shapes
Holders, Mountings, Edgings, Trim, Retainers
Framing
Slats, Strips, Gaskets, Battens
Panels, Fins, Plates
Railings & Brackets
Accompaniments
Misc. Channels